The awesome team behind the London Review of Books recently invited me to spend the day with them at the British Library, as an invited guest joining in at their second internal Hack Day. It was super fun to meet the people who make the magazine of which I'm a huge fan.
In case you live in very far-flung corners of the internet and don't know what a Hack Day is, Melinda from Futurelearn wrote an excellent post about their first internal Hack Day which explains it very well.
Team Pre-Hack-Day
Before the event, the organisers of the day Helen and Rachael set up a Trello board to help get people off to a good start.
There was a lot of collating ideas and collecting things that might be useful on the board before the day, like POP - a prototyping app which lets you make an app out of pictures you draw on downloadable phone- and tablet-shaped paper templates. Super smart.
In the run-up to the day I also got to thinking about a few ideas of things I'd love the website to do, as a subscriber. Or with my design head on, ways to help focus attention on the LRB shop, website and magazine. Finally we all got to the British Library and starting collecting our ideas together.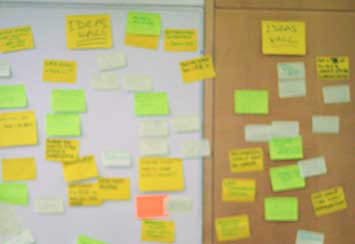 Like all hack days of course, time was short - we only had one day, so after a lot of excitement, brainstorming and post-it notes in the morning, we settled down to work before lunch.
Team Blog App
Another guest was Chris from Tapjet, which is an insanely clever framework for making mobile apps just by adding images and text files to a folder.
So Team LRB Blog App used Tapjet to make not just one but TWO apps, one for reading new blog posts, and the other sends you a beautifully illustrated new poem (or an old one, from the archive!) to read each week. Both apps that not only let the author publish new articles on it just by dropping new content into a folder, but also send a push notification on the user's phone to alert them. Very cool!
Team LRB Notify
Team Notify uses content from the LRB archives to contextualise current events. Kind of like the breaking news features on modern news websites, except with supporting information that isn't always available elsewhere.
Team Device Wall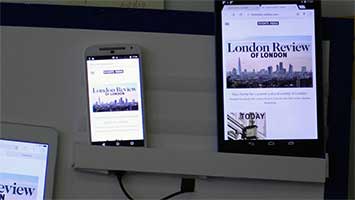 As a developer the idea of pushing content to many devices at once for testing and checking layout is heaven in easy-to-QA form. So I was really pleased to see a device wall take shape at the hack day. All development teams should have one!
Team LRB London
One of the things that amazes me about modern web apps is the sheer ease now of pulling something together that's very slick-looking and well-put-together in a short amount of time.
The London Review of London used Weebly to create an events listing site using the curatorial expertise and knowledge of the LRB staff and editors, alongside content from the current issue, blog and LRB Bookshop events. The aim being to produce a site where you can find the best things to do in "curated, intellectual and local" literary London.
I love that the tools just get out of the way now and allow people with ideas to make stuff easily. (For example, embarrassingly, this hack was mobile-ready before our handcoded one..!)
Team LRB Interactive/Edited
A theme which which kept bubbling up throughout the day was to do with different ways of presenting and searching the HUGE online archive.
To give you an idea how huge and how far back the archive goes, here's the issue from the week I was born, LRB issue date 22nd November 1979.
This idea turned into one of the hacks: arranging various written pieces over the whole archive into longer collections, based around subject matter curated by authors and editors. This would guide a learner through a period of time or cultural phenomenon. I would love to do the LRB online history course that weaved its way from the Smiths to Oscar Wilde (via Elvis..!)
Team Blippar
One of my favourite physical hacks was also made with help from another invited guest, the team from Blippar. This tool allows you to add a sticker to an object in the real world (like a book in the LRB bookshop) which then linked via the customer's smartphone to a customised video you make explaining more about the book, with stuff you've videoed or photograph inserted into the video in an ARG style.
It looked like a neat way to help customers in the shop find out more about something and convince them to take it up to the counter.
Team LRB Tube Map #2
On the day I ended up making a proof of concept of an interactive version of the super cool LRB Alternative Tube Map.
I wrote up a bit more elsewhere about the tube map as I loved the idea and wanted to waffle on about it a bit more than I have space for here, so I'll update again when that's up (and therefore finished..)
Team Finally...
It was inspiring to see the LRB experimenting with creative ways of working digitally and thinking of new ideas and new ways to bring their work to the world. I'll make sure to link up the other hacks when there's more written about them. I believe there may even be a video at some point..!
And of course a big thank you to Rachael for introducing me to the LRB and to Helen for excellently MCing such a lovely day.