I was lucky enough to attend http://jqueryuk.com last month in Oxford, so I thought I'd use up my yearly blog post[1] for my write-up.
Design matters
Two of my favourite sessions were Lea Verou and Divya Manian's complementary talks on colour theory and graphic design native to the web, things you never knew browsers could do with CSS filters and blend modes.
How the web became
I also LOVE LOVE LOVED Jen Simmons' talk: 'A Love Letter to HTML'.
Especially the part where she agreed with me that markup and CSS are real programming languages - they totally are! (People used to say that about JavaScript, 'oh, it's not a real programming language', and look where that got us).
A real slice of history is contained within The Mother of All Demos from Jen's talk (I had never seen it before!) and - and I honestly almost cried here with pride and love and joy for what us crazy humans have done with this since - a slide showing Sir Tim Berners Lee's original memo to his boss asking for time to work on his wacky, 'vague but exciting' hypertext information management proposal. 1989. The year Bill & Ted's Excellent Adventure was released. Time flies!
The memo is in the slide deck. Go check it out.
Make it easy
Andrew Betts gave great game in 'Front end components for sanity at scale' based on their Origami work at the Financial Times. Definitely worth looking up if you're working on larger-scale stuff, the difficulties of managing a huge site with many different teams, giving an example of one page which has modules on it designed and developed by completely separate teams - separate offices, they know nothing about each other's code and yet the pages work. Impressive stuff.
Or even if you're not - the takeaways there still totally work for those of us working on a smaller product. How can we work together with designers, content editors, UX, developers in other disciplines?
Important questions and some good answers in the talk, which I think you can still just about get the gist of from the slides. My favourite being 'Make the right thing the easiest thing to do' - work on your tools and your process to make the right thing obvious and simple, and harder than the wrong thing.
Andrew Betts: 'Front end components for sanity at scale'
You got a purty mouth
Finally I managed to squeeze into the smaller second room for Tim Ruffles' D3 for jQuery people. Tim's hilarious delivery and how easy he made it look to produce something beautiful as well as informative in about ten seconds (ok, ten minutes, but still!) was truly inspiring.
Tim's talk tipped me over into making the decision to start the Creative Coding course over at Futurelearn, and I've been browsing Information is Beautiful to brush up on my design skills - I'm looking forward to putting some of the things I learned in the earlier colour talks into practice.
Tim Ruffles: D3 for jQuery people
jBeery
And it was a pleasure to hang out with Ghost's own Hannah Wolfe at jBeery afterwards - she is one of the crazy humans who has built upon the foundations of the web that Sir Tim imagined, she founded and wrote this here blogging platform, so none of what I am writing right now would have got to you without her :-)
The little touches - like the human signposts & graffiti 'J's' scrawled on the pavements to guide us from the train station on the sunny walk along the Thames to the conference venue - really showed that the organisers had put serious thought into our day. Lunch was free, plentiful and delicious, as were the drinks afterwards - local craft beer with reprinted labels with silly web dev jokes on them. Even the burrito van got in on the action: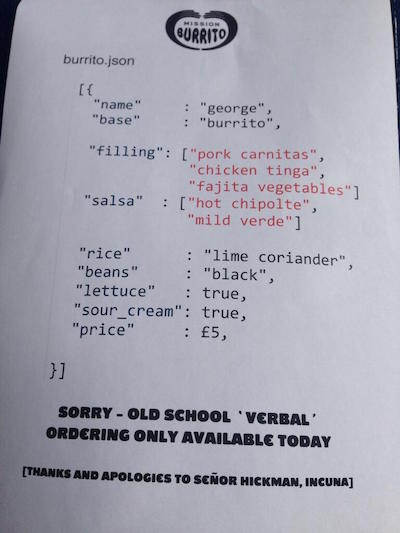 (and why thankyou yes my s/developer/pedant/ friends for pointing out the errors in that JSON which I was too drunk on delicious free beer to notice xx)
So a HUGE thankyou to all of the organisers, sponsors, volunteers and everyone who attended or helped make it a really great day. I had an eye-opening time, learned a lot, and had a lot of fun.
---
Yup, totally going to write more this year ↩︎